Missing Calvary on your Facebook newsfeed?
Recent changes to Facebook's algorithm may mean that you haven't seen Calvary in your Newsfeed recently--even if you've liked or followed us.
What's changed
Facebook is now actively "prioritizing" content from your family and friends vs. allowing you to easily get updates from organizations, even ones you follow.
To make sure you're seeing our latest posts:
Visit Calvary's Facebook page (facebook.com/calvaryclt) on your favorite device and click on the "Follow/Following" button. You should either see a dropdown choice or you may be automatically taken to Your Subscriptions settings (pictured below).

Change the selection option from "Default" to "See First".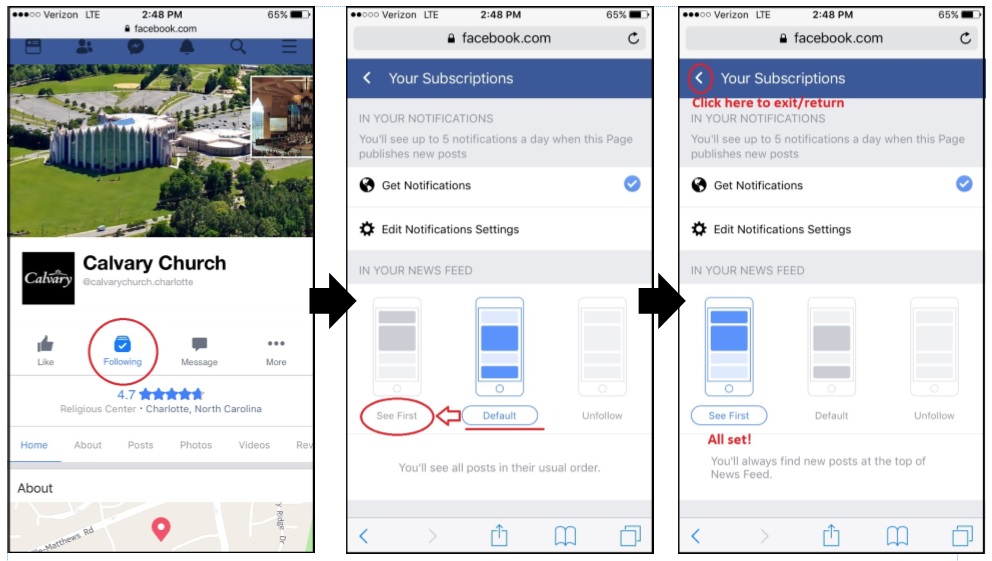 By choosing "See First" you are telling Facebook that you want to see Calvary's information rather than simply relying on what Facebook chooses to be "relevant" for you in your Newsfeed. You can choose "See First" for any number of pages, giving priority status to the information you actually want to see. Also, the more you interact, comment and share Calvary posts, the more Facebook will recognize our page as "relevant" content for you!
How you can help others
With this new emphasis on person-to-person interaction on Facebook, your activity with others is even more important. Help newcomers find Calvary by sharing posts you like and pass the word on the "See First" feature — many people haven't heard of it yet!
Questions? Contact Greg Armbrecht, Director of Media, at garmbrecht@calvarychurch.com.