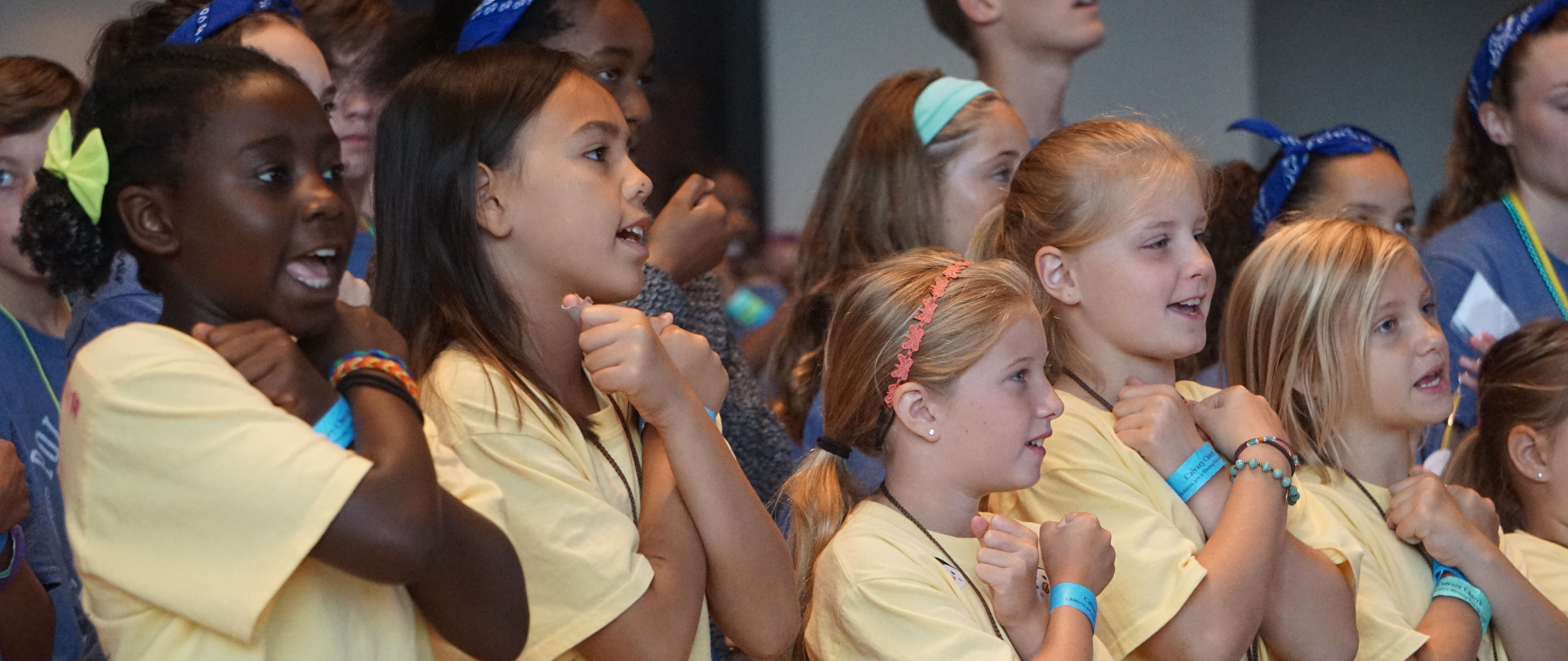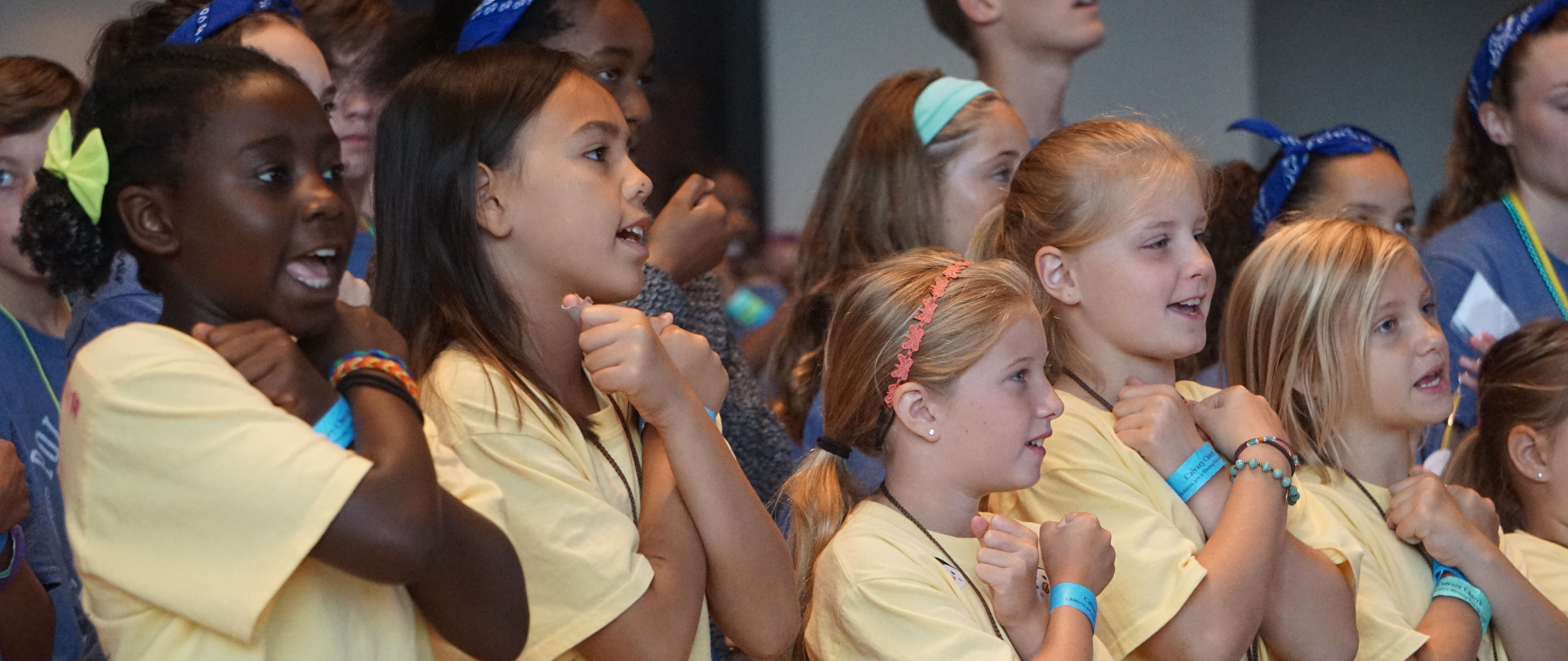 At Calvary, we love children! And we love teaching them about God and His Word.
Our Children's Ministry actively partners with parents to encourage every family to make a whole life commitment to Jesus Christ. We seek to engage each child in fun and creative age-appropriate programs which help build a strong spiritual foundation.
---
Visiting for the first time? Welcome! Please stop by the Family Welcome Desk on the first floor near the elevators. We'll be glad to register your children and help you find the right class. For info about our security procedures, click here.
---
See event pics and stay connected on our Facebook page.
---
Interested in volunteering? There are lots of ways you can support Calvary Children's Ministry. Find out more below!
---
Questions? Contact: Su Trull, Director of Children's Ministry, strull@calvarychurch.com
+

Nursery
Sundays & Wednesday evenings

The Calvary Nursery provides loving care for babies and toddlers during all worship services. Parents can drop off little ones and attend services with peace of mind.

We see the Nursery as a child's first step toward a relationship with Christ. Playtime activities introduce children to biblical truths and allow parents to continue teaching at home. On Sundays at 11:15 AM, our older toddlers join the preschoolers for music, puppets, drama, video, and more!

What are regular nursery hours?
Sunday Mornings: 9:45–12:15 AM
Sunday Evenings: 6:00–7:15 PM
Wednesday Evenings: 6:30–8:00 PM

I'm new to Calvary. Is there anything I should do first?
Welcome! On your first visit, please stop by the Family Welcome Desk on the first floor near the elevators. We'll be glad to help you register your child and find the Nursery.

Do I need to bring anything for my child?
If possible, please bring a labeled diaper bag with disposable diapers, a change of clothes, a labeled pacifier, and a filled and labeled bottle or sippy cup.

What security measures are in place? How can I keep in touch?
Calvary uses our Checkpoint Security system to keep our youngest ones safe and secure. When you use our kiosks for sign-in, you will receive a coded name tag. When you drop off your child at a classroom, we also provide a numbered beeper to notify you immediately if you're needed in the Nursery.

Have a new baby or are you expecting?
We'd love to welcome you with a small gift and helpful information about the Nursery. Click here for more information on Child Dedication and upcoming dates.

---

For a detailed overview, please download our Nursery Handbook.

+

Preschool
Sundays, 9:45 AM–12:15 PM

On Sunday mornings, we introduce children to the lifelong adventure of walking with God and being Jesus' disciple! Preschool classes for children ages 2 1/2 through Kindergarten meet at 9:45 AM and 11:15 AM.

At 9:45 AM, all children enjoy Bible lessons, learn Scripture verses, participate in engaging activities, and make crafts with their friends.

At 11:15 AM, All preschoolers participate in BibleZone, a large group format using music, puppets, drama, video, and fun activities to reinforce the Bible lesson taught in the 9:45 AM session.

---

Where should I bring my child?
Class assignments are noted on your child's nametag, which will be printed when you sign in at the Checkpoint kiosk each week. Please plan to drop off and pick up your child at his/her assigned classroom on the first floor in the Preschool wing.

Be sure and ask your child what he/she learned each Sunday!

---

We invite and encourage parents to serve with their child's class on a rotating basis.

Questions? For ages 2-3, contact: Susan Grigg, 704.341.5356, sgrigg@calvarychurch.com
For ages 4–5, contact: Jennifer Groseclose, 704.341.5349, jgroseclose@calvarychurch.com

+

KidZone | Grades 1 & 2
Sundays, 9:45 & 11:15 AM

KidZone is where our 1st and 2nd graders begin making their faith their own. The children worship the Lord through music, participate in Bible study and prayer, and begin to apply biblical principles to their lives. We emphasize God's desire to have a personal relationship with every child!

KidZone starts at 9:45 AM in the Crown Room with large group praise and worship, videos, and interactive presentations. Then we move to small groups for Bible study activities. Children who continue for the 11:15 session enjoy an active program featuring Bible challenges and more. Children may attend both the 9:45 and 11:15 AM sessions.

---

Where should I drop-off and pick-up my child?

After visiting the Family Welcome Desk (first-time only) or signing in at one of our kiosks:

For the 9:45 AM hour:
Drop off: Crown Room on the 3rd Floor
Pick up: Small group classrooms on the 3rd Floor (see your child's name tag)

For the 11:15 AM hour:
Drop off: Back door of Room 300
Pick Up: Front door of Room 300

Be sure to ask your child what he/she learned each Sunday!

---

If my child is staying for both sessions, do I need to return after the first hour?
No. You may simply drop-off your child off at 9:45 AM and our staff will be happy to see your child safely to the 11:15 AM session.

---

Questions? Contact: Elise Swepston, 704.887.3693, eswepston@calvarychurch.com

+

Zone 345 | Grades 3, 4 & 5
Sundays, 11:15 AM

ZONE 345 – GRADES 3, 4 & 5

Zone 345 is where kids in 3rd-5th grade will be engaged in God's Word, equipped to understand and apply God's truth, and be encouraged to stand firm in their faith.

Zone 345 runs from 11:15 AM–12:15 PM on Sundays. We encourage children to attend worship with their families at 9:45 AM.

Children receive a Calvary Kids Worship Folder as they enter the Sanctuary for service. They can follow the sermon by answering the questions provided by Pastor Munro. After the service, drop off the completed folder at the Family Welcome Desk or in the Crown Room when your child arrives at Zone 345.

We start in a large group to present the Bible story through video and activities before dismissing to small groups so kids can dig deeper into God's Word.

---

Where should I bring my child for Zone 345?
After checking in, plan to drop off your child in the Crown Room on the 3rd Floor.

Where should I pick up my child?
All 3rd, 4th, and 5th graders are picked up from classrooms 306–315. For the specific room, see your child's Checkpoint name tag. Be sure to ask your child what he/she learned each Sunday!

---

Contact: Sue Ridge, 704.887.3695, sridge@calvarychurch.com

+

Children's Ministry Volunteers
Sunday AM & PM and Wednesday PM
KidZone, Preschool, Nursery, Awana, & Special Needs openings

Volunteering with Children's Ministry: How can you serve?


Hundreds of parents, grandparents, young adults, and individuals with varied gifts and talents serve with our Children's Ministry teams. Do you have a passion for sharing Christ's love and the life-changing message of the Gospel with children? If so, please consider serving with us!

Immediate need: Volunteers to serve one hour in KidZone Sunday mornings, twice a month. Contact: Elise Swepston, eswepston@calvarychurch.com, 704.887.3693

---

Volunteers are also needed in the Nursery, Preschool, and Special Needs. Serve on Sunday mornings or evenings or Wednesday evenings with Awana and Bible clubs! Click here to learn more about these specific opportunities and plan to attend one of our training sessions.

Ready to volunteer? Please register below. Have questions? Contact: Jane Jewell, 704-341-5399, jjewell@calvarychurch.com, Su Trull, Director of Children's Ministries, 704.341.5458, strull@calvarychurch.com or Susan Grigg, 704.341.5356, sgrigg@calvarychurch.com

---

Awana & Bible Clubs Volunteers — Wednesday Nights

We need at least 100 adults age 18+ to serve in a variety of roles this fall! Our clubs start up again on January 8. Come join our Bible Club team!

Contact: Jennifer Groseclose, 704.341.5349, jgroseclose@calvarychurch.com