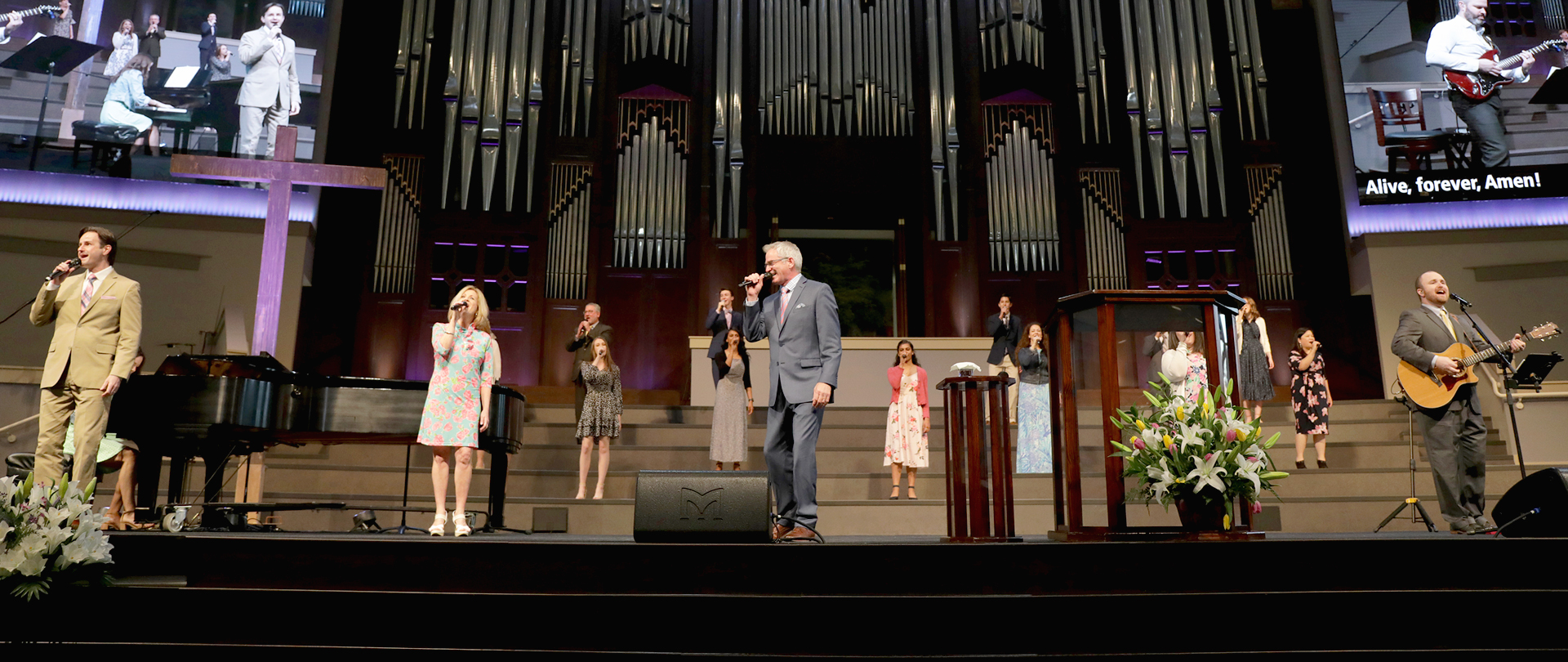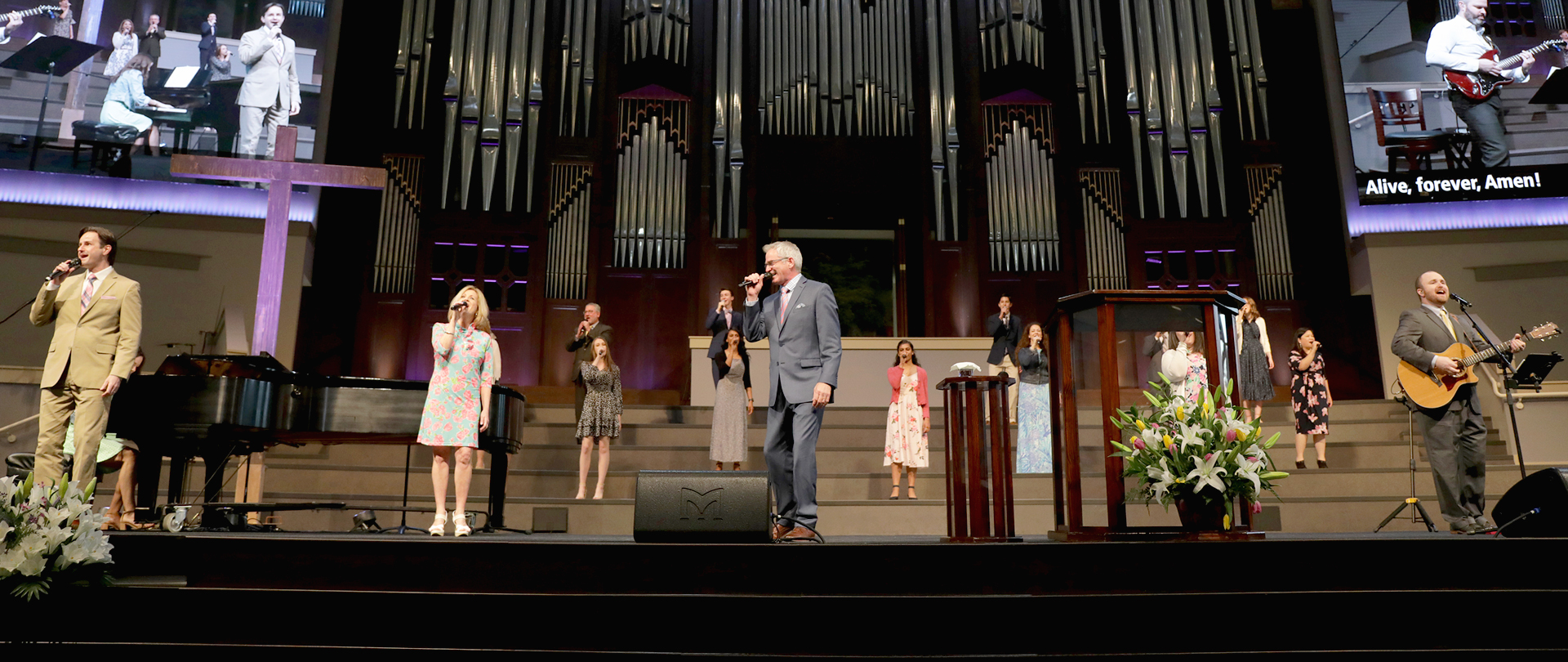 You're invited to worship with us on Sundays through May 23 at Calvary at 8:30 or 11:00 AM.
We look forward to moving to ONE SERVICE at 9:45 AM on May 30. Learn more HERE.
---
Our worship service is the highlight of the week! We are committed to God-centered, Spirit-filled worship as we celebrate who God is and what He has done in Christ Jesus.
Worship at Calvary is joyful, dynamic, and inspiring, uniting all generations as we praise God together. Worship is led by our choir, orchestra, band, and vocal teams in the Sanctuary.
Services feature the proclamation of God's Word by Senior Pastor John Munro. Learn more about his current message series HERE.
Effective May 30, the Sunday worship service begins at 9:45 AM.
Tune in/arrive for Calvary Connect at 9:40 AM for news and announcements.
If you wish to join us via Livestream, click HERE or watch on Calvary Facebook Live.
New to Calvary? Welcome! We'd love to get to know you — text NEW to 704 543 1200 to connect.
Thank you for worshiping with us!
---
"For the word of God and for the testimony of Jesus Christ" — Revelation 1:9
+

Worship Livestream
Sundays at 8:30 & 11:00 AM
ONE SERVICE at 9:45 AM begins May 30

Not able to join us for worship on Sunday morning? Worship with us via Livestream on Sundays and select special services.

Watch at live.calvarychurch.com or our simulcast on Calvary Facebook.

View the full service via desktop, laptop, tablet, or smartphone. Worship alongside the live service, chat with one of our pastors, take notes, and share your prayer requests.

After the service, the live broadcast is available to replay throughout the week.

We post past sermons, worship highlights, and videos online at media.calvarychurch.com for on-demand viewing.

---

For technical support FAQs, check HERE. Question for our tech team? Email media@calvarychurch.com.

+

Listen to Worship by Phone
Live & On-Demand

Now you can listen to the Calvary worship service by phone!

For those who may not have access to the internet at home, in a nursing home, or in a hospital room, Calvary has a phone number that allows you to call in and listen LIVE to our Sunday worship services.

Here's how it works:

Call 833.256.4701

To be notified when our worship services go live, press "1" to receive a phone call before the service begins.

If you miss the live service, you may call the number at any time to hear the most recent sermon on-demand.

---

We also offer live translation in Chinese, Russian, and Spanish for the 9:45 AM Sunday service. Call these numbers to listen:

Chinese — 877.748.3414

Russian — 877.734.4341

Spanish — 877.740.3413

---

Questions? Contact: Pastor Sibu Rajappan, 704.907.7497, srajappan@calvarychurch.com

+

Worship Service Translation
Spanish, Russian & Chinese
Sundays, 11:00 AM by phone

On Sunday mornings, our 11:00 AM worship service is translated LIVE into Spanish, Russian, and Chinese.

---

Get instructions here:

---

Calvary has phone numbers that allow you to call in and listen to the service live or on-demand.

Here's how it works:

Call on your mobile phone or any telephone and listen:


Chinese — 877.748.3414

Russian — 877.734.4341

Spanish — 877.740.3413

To be notified when our worship service goes live, press "1" to receive a phone call before the service begins.

Please use headphones or earbuds if you listen to the service live in the Sanctuary.

To listen to the translation during the service Livestream, connect to the Livestream on a mobile phone/device/computer and call the translation phone number using another phone/landline.

If you miss the live service, you may call the number at any time to hear the most recent sermon on-demand.

---

Questions? Contact: Pastor Sibu Rajappan, 704.907.7497, srajappan@calvarychurch.com

+

ASL Interpretation
Previous Services Recorded
Watch previous messages here