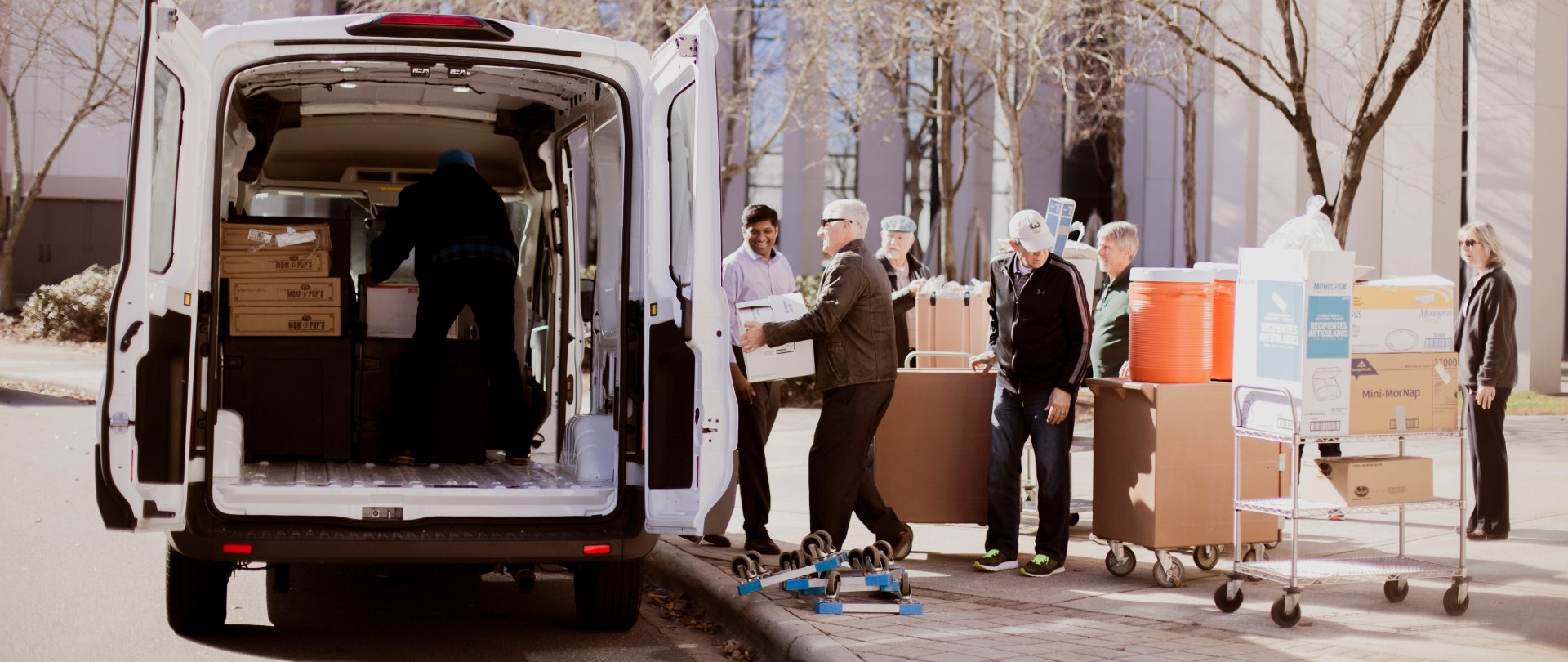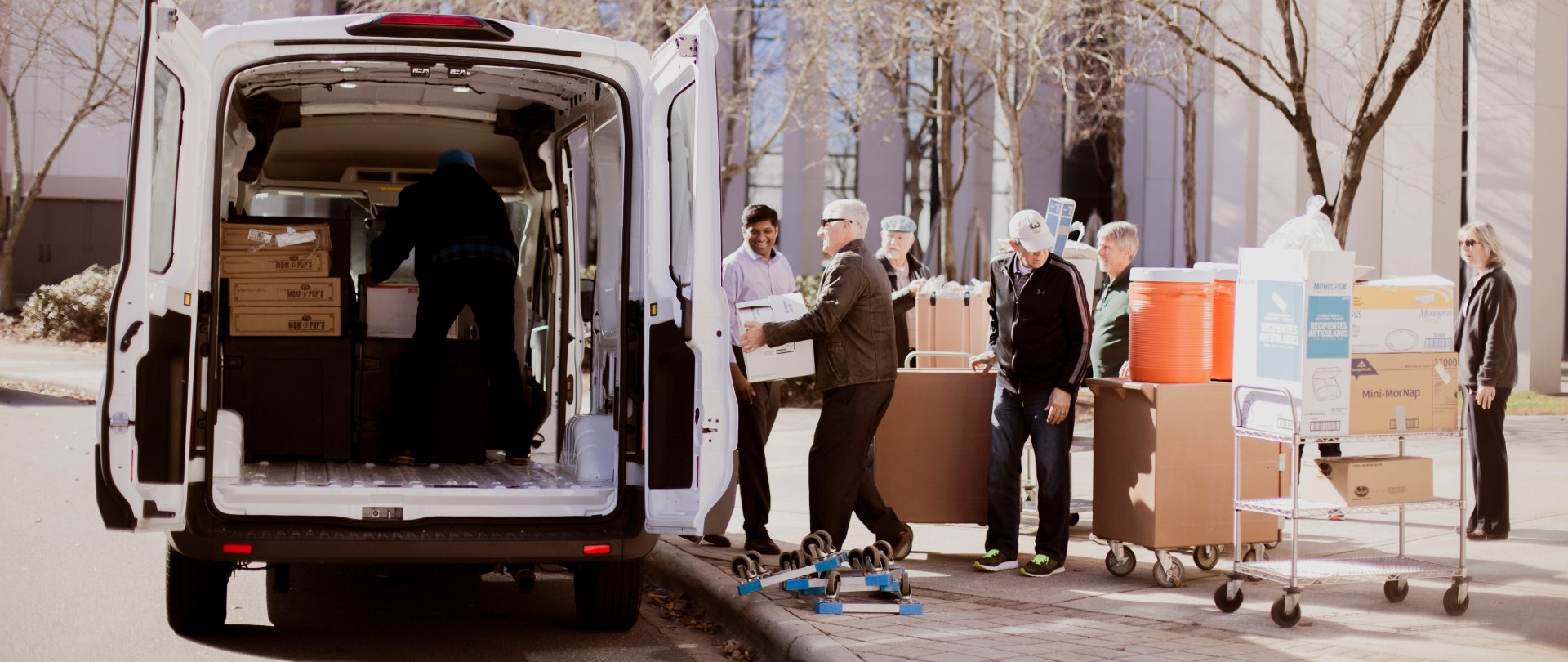 As authentic followers of Christ, we want to be active in our faith and serve Christ by serving others.
It's easy to get involved! Below is a list of some current and ongoing ministry needs, or check out our Local Ministry Partners for opportunities to serve in our community.
+

VBS Volunteers
June 24–28 | 6:30–8:30 PM
Includes details & training dates

Camp Frenzy: It's VBS, Family-Style!
Volunteer to serve
June 24–28 | 6:30–8:30 PM

This year, it's VBS family-style! We're inviting families to enjoy a fun-filled week of Vacation Bible School together as we slow down from the frenzied pace of life to spend time with each other in the Word of God.

Our volunteers help make VBS an overwhelming success every year. This year, volunteers will serve in recreation, music, snacks and tech teams within our new family VBS format. Specific roles include:

"Family Cabin" Counselors and "Family Cabin" Co-Counselors – Welcome a group of 15-20 people (multiple families) into your "Family Cabin." Facilitate the intro and/or wrap-up activities or questions that will be given to you and explained at training for our Bible Lessons each night.
Snack Team – Help make and hand out snacks
Rec Team – Help set-up and lead the family activities each night
Worship Team – Help lead our worship and music. (Requires multiple practices before the week of VBS)
Tech Team – Help with sound, lights, filming, and production
Set-Up and Breakdown Team – Help get everything ready before families arrive and at the conclusion each night
Leadership Team – By invitation: If interested in helping with organizational leadership or teaching, please contact Su Trull directly before registering.

Training dates: Choose one date to attend!

Wednesday, May 22 | 6:30–8:30 PM, Crown Room
Wednesday, May 29 | 9:30–11:30 AM, Banquet Room
Sunday, June 9 | 12:30–2:30 PM, with pizza lunch
Wednesday, June 19 | 6:30–8:30 PM, Crown Room

---

For more information, please contact Jennifer Groseclose, 704.341.5349, jgroseclose@calvarychurch.com or Su Trull, strull@calvarychurch.com.

+

Hearts & Hammers
Saturday, April 13


Men, we need you! Hearts & Hammers teams serve one Saturday each month tackling household repairs, maintenance, and yard work for Calvary members who need a helping hand on an ongoing basis.

We are currently recruiting additional team members! Get started at our next training meeting on Saturday, April 13 at 8:45–9:30 AM in Room 226

Register

+

Nursery Easter Volunteers
Good Friday 4/19
& Easter Sunday 4/21

Nursery Easter Volunteers

Good Friday Service 4/19

Easter Sunday Services 4/21


Caring for children (infants to age 3) is one of the ways we love to welcome our guests and support the Calvary family during the Easter holiday!

Interested in serving? Please plan on arriving 20 minutes before the service. All volunteers must have a background check on file.

Good Friday Service | Friday, April 19, 7:00 PM
Easter Sunday Services | Sunday, April 21, 9:00 AM & 11:00 AM

Register online below, or sign up at the Galleria table on Sundays.

+

Street Ministry
SUV/Pickup Truck with towing capacity needed


Street Ministry volunteers serve breakfast to hundreds of homeless neighbors every Saturday in uptown Charlotte. Participate in food preparation, or help deliver and serve the meal. New volunteers are always welcome — sign up as individuals or groups for specific dates.

---

Current need:
Volunteer with an SUV or pick-up truck with towing capacity

We are in need of someone with an appropriate vehicle to tow Calvary's food trailer to Uptown Charlotte and back. This would include serving on a rotating schedule, at least once a month. Contact: Pete Delahunt, 312.375.4806

---

Contact: Pastor Sibu Rajappan, 704.341.5336, srajappan@calvarychurch.com or Pete Delahunt, 312.375.4806, pdelahunt25@gmail.com

+

Career Ministry
Be a Career Ministry Coach!

Recent Gallup and Barna Group polls indicate that many people in the workforce are either looking for work or feel their career isn't their true calling.

Calvary's Career Ministry assists in helping our community discover their calling by providing Scripture–based programs, support groups, and instruction.

We are seeking Calvary members to serve as Career Coaches. Experience in hiring or managing is preferred, but not required. If you have a heart for helping others and a listening ear, please prayerfully consider this ministry!

---

Contact: Jennifer Sharpless, 704.341.5417, jsharpless@calvarychurch or Pastor Rob Reece, 704.887.3696, rreece@calvarychurch.com

Our Community Impact ministry coordinates important local, regional, and national issues and events, including voter registration, Life Chain in October, and Sanctity of Life Sunday in January.

Contact: Debbie Ware, 704.650.6095, deborahhware@yahoo.com

+

GO2Proclaim
3rd Saturdays at 1:00 PM
Conversational Evangelism

GO2Proclaim Conversational Evangelism
3rd Saturdays at 1:00 PM

Interested in fulfilling the Great Commission? Learn how to engage people in Gospel conversations with grace and love. Join our GO2Proclaim team on the third Saturday of each month for training at the Calvary Café at 1:00–1:30 PM. Then we'll head out to nearby walking trails and parks for conversational evangelism.

---

Questions? Contact: Pastor Sibu Rajappan, 704.341.5336, srajappan@calvarychurch.com



+

Coaching with CHAMP Sports
No experience req, training provided


Interested in being a CHAMP coach? We offer leagues for soccer (ages 3–18), flag football (6–17), T-ball (5-6), baseball (7–8), and basketball (ages 5–18). Just two to three hours a week can make a huge impact in the lives of kids! No prior coaching experience is necessary and training is provided!

Visit the CHAMP website at www.champsportsinfo.com for full details.

---

Contact: Kelly Lamb, 704.887.3689, klamb@calvarychurch.com

+

ESL Volunteers
Teachers, coordinators & assistants

Interested in teaching or assisting with our international ESL students? Our program meets on Tuesdays and Thursdays, 9:00 AM–Noon. Our fall semester is fully staffed with volunteers, but contact us if you are interested in serving in the spring!

We are always looking for additional volunteers to serve as coordinators, teachers, assistants, and more. We invite you to join our ESL team!

For more information about Calvary's ESL classes, click here.

---

Contact: Vince Eaton, 704.341.5322, veaton@calvarychurch.com

Our Martha Ministry team supports the Calvary family by providing a meal at the church before or after the funeral of immediate family members. Volunteers are assigned to rotating teams and might serve 3-4x per year by preparing a covered dish and delivering it ready to serve.

Contact: Dalene Ingle at 704.573.0491 or digiolde@carolina.rr.com

+

Prison Ministry
Reaching out to area prison inmates

Our Prison Ministry presents opportunities to witness, counsel, and pray with inmates at the local Kirkland SC correctional facility.

An orientation and a background check are required to serve. The typical time commitment is about six hours, including travel time and 2-3 hours of ministry.

Interested in learning more? Contact Pastor Sibu Rajappan for more information about regular visitation opportunities and upcoming scheduled events.

---

Contact: Pastor Sibu Rajappan, 704.341.5336, srajappan@calvarychurch.com

Be an encouragement to our senior adults by making regular phone calls through our Senior Telecare ministry. Callers share Scripture and pray with people over the phone. A great opportunity for those with a flexible schedule!

---

Contact: Pastor Jim Pile, 704.341.5359, jpile@calvarychurch.com

| | |
| --- | --- |
| + | Special Needs Opportunities |

Will you help our Special Needs Ministry by serving as a Teacher, Assistant Teacher, Friends/Buddy, or Parent Partner on Sunday mornings? We also have opportunities for volunteers to serve at our events throughout the year. Thank you!

---

Contact: Rebekah Sanders, 704.341.5413, rsanders@calvarychurch.com

Our Stuffing Team faithfully assembles our Looking Up newsletter for Sunday morning worship from 8:00-9:45 AM on Saturday mornings. Serve as needed or volunteer as backup for the busy holiday seasons.

Contact: Wanda Moen, wsmoen@gmail.com

| | |
| --- | --- |
| + | Choir, Orchestra, Band & Tech |

Our Calvary Choir, Orchestra, Band and Tech Team are made up of Calvary members of all ages who serve on Sundays in our worship service. We prepare each week during "Wednesday Worship" where we not only rehearse, but also grow together through prayer and rich community.

We invite everyone who might be interested in any capacity to attend rehearsal and explore serving in worship. Extensive musical experience is not required and training is provided for all tech team roles. The most important qualification is having a heart for Christ-centered, God-glorifying worship!

Click here to learn more about Worship Ministries or email Christy Driscoll at cdriscoll@calvarychurch.com to sign up for a rehearsal. (Rehearsals typically run 6:30–8 PM on Wednesdays.)

Contact: Christy Driscoll, 704.887.3687, cdriscoll@calvarychurch.com



+

Volunteer in Children's Ministry
Current needs in Preschool Sunday AM, Awana, PM Nursery

Volunteering with Children's Ministry: How can you serve?


Hundreds of parents, grandparents, young adults, and individuals with varied gifts and talents serve with our Children's Ministry teams. Are you gifted in teaching, story-telling, crafts, music, tech, or behind the scenes work? Do you have a passion for sharing Christ's love and the life-changing message of the Gospel with children? If so, please consider serving with us!

Serve on Sunday mornings or evenings or Wednesday evenings with Awana and Bible clubs! See more details below:

---

Volunteer on Sunday Mornings or Evenings

Help children feel welcome and loved each Sunday at Calvary as we teach the Word of God. Serve on Sunday mornings as teachers, assistants, leaders, volunteer helper or welcome partners. Click here to learn more about these specific opportunities.

Update: Our immediate needs include:

Preschool teachers & assistants during 9:45 & 11:15 AM hours
Sunday evening nursery volunteers

Note: Volunteers must have attended Calvary for at least six months, and all teachers must be Calvary members. Background checks are required.

Ready to volunteer? Have questions?
Contact: Su Trull, Director of Children's Ministries, 704.341.5458, strull@calvarychurch.com or Susan Grigg, 704.341.5356, sgrigg@calvarychurch.com

---

Volunteer on Wednesday Nights for Awana & Bible Clubs

We need at least 100 adults age 18+ to serve in a variety of roles! When you register as a volunteer, you'll choose a club and select a training session to attend. Come join our team!

Contact: Jennifer Groseclose, 704.341.5349, jgroseclose@calvarychurch.com.