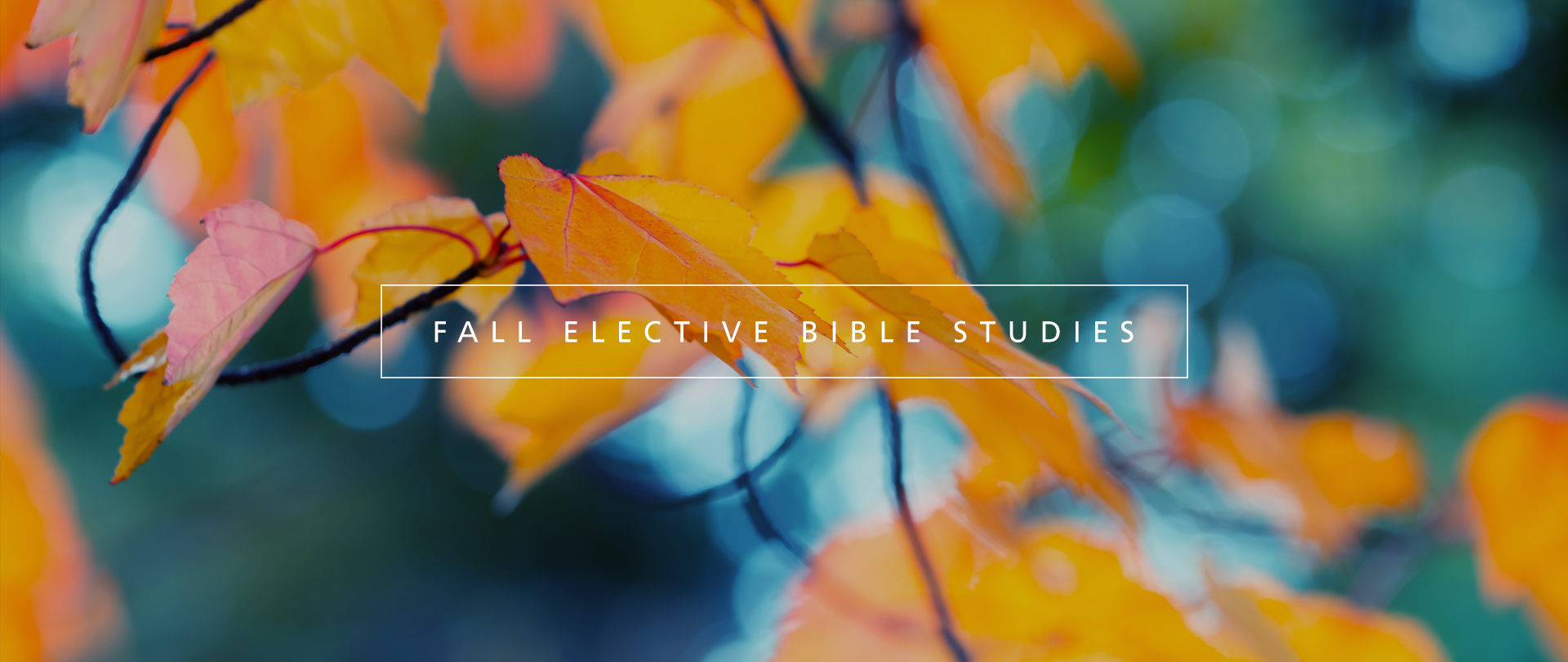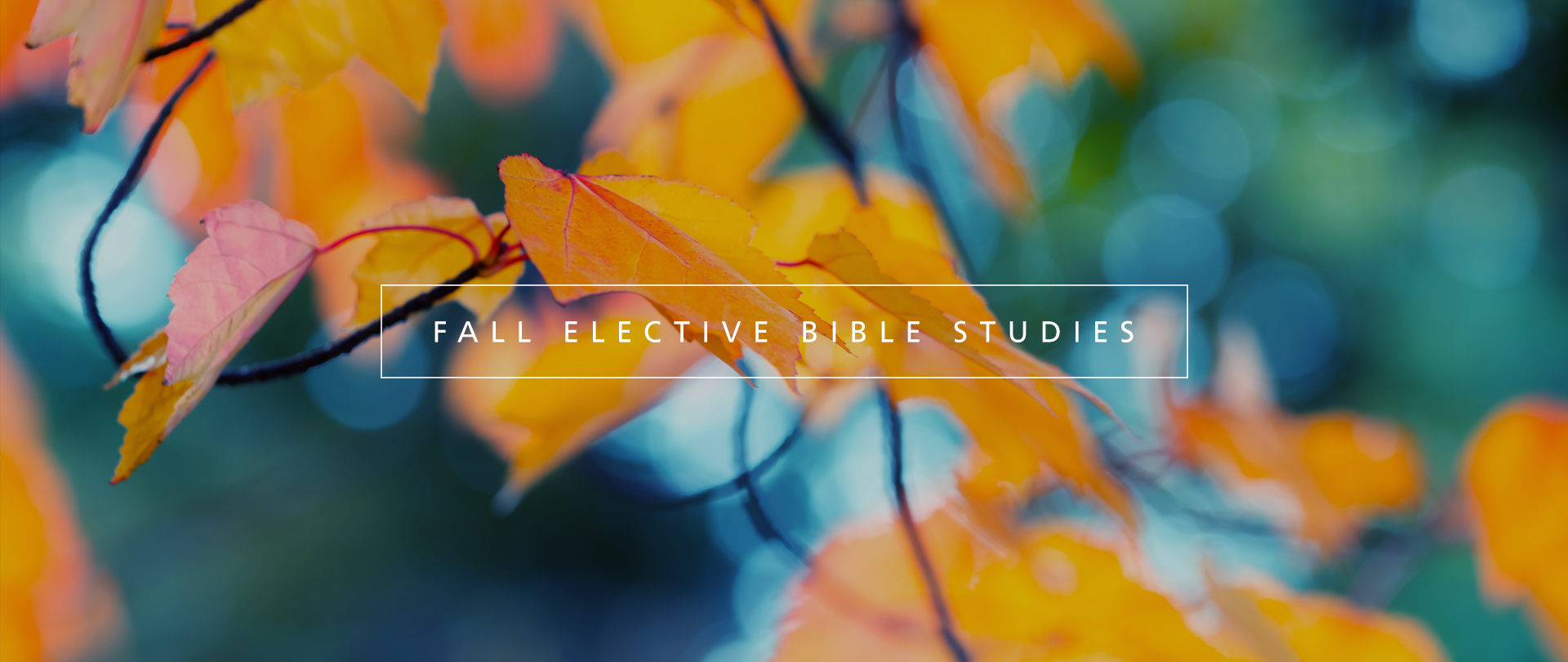 Fall Elective Bible Studies
Wednesdays, 6:30–8:00 PM

This fall, we invite you to be challenged and equipped in God's Word in one of our Elective Bible Studies. Expect to grow in your knowledge, understanding, and application of Scripture. Join us to connect, ask questions, strengthen your faith, and enjoy the great fellowship!
Module 1: September 7 – October 12 (six sessions)
Module 2: October 19 – November 16 (five sessions)
All classes meet on campus at Calvary, and many are also available on Zoom. Most courses are offered in both modules. Please register below to help us prepare for you.
---
Elective Courses

A Brief Exhortation for the Church
Pastor Sibu Rajappan | Banquet Room & Zoom

The book of Hebrews is called a "brief exhortation." It is a fascinating book containing lofty Christological passages yet interwoven with very strong warnings given to the church. These five warning passages have led many to deny assurance of salvation. What is the intent of these warning passages? How do we understand these passages within the context of the book and the larger context of the Bible?
---
How We Got the Bible
Pastor Jim Cashwell | Room 226 & Zoom

This elective will look at how we got the English Bible, how the Old Testament and New Testament canons came about, and the supremacy of Scripture.
---
Living Out Your Faith
Pastor Jim Pile | Room 402 & Zoom

How are you doing in your walk with the Lord? How does God really change us? How do we practically apply God's Word daily in our Christian journey? These and other questions will be explored in this class as we deal with the daily trials, dangers, and experiences of being a follower of Christ in this troubled world. Join us as we seek to "grow in the grace and knowledge of our Lord and Savior Jesus Christ (2 Peter 3:18).
REGISTER MODULE 2 Meets at 3:30 PM
---
Men as Shepherds of the Marriage and Family (Men only)
Pastor Nathaniel Pearce | Room 233 & Zoom

Discussions about male headship in the home excite many men. Some maintain a laser-like focus on and even frequently remind their household about their headship position with its associated rights and privileges. However, it seems many men do not truly understand or function well in their calling as shepherds in the family. Men, join us for a heart-to-heart study and discussion that will help us truly become biblical shepherds within our marriage and family.
---
Understanding Church Polity (Elders & Deacons only)
Pastor Rob Reece | Room 232 — Module 1 only

This class will take a look at three types of church polity: Presbyterianism, Episcopalianism, and Congregationalism. We will seek a biblical understanding of church polity and church office functions. This class will also consider how the elders and pastor operate practically and in unity. Not available on Zoom.
Alive in Christ
Pastor Rob Reece | Room 232 & Zoom — Module 2 only

Scripture describes those who trust in God as being full of life, without fear, and without anxiety. In fact, even when tribulation comes, a follower of Christ does not cease to "bear fruit." Indeed, a Christian is to be a "tree planted by the water" whose leaves remain green, even when the heat and drought come. Considering the chaotic world in which we live, does this description reflect your life in Christ? Come and learn how to train yourself for godliness and grow in grace and knowledge.
---
A Fresh Look at Holy Week
Bob Boogaard | Room 231 & Zoom

We will look at God's instructions regarding the Passover, the Feast of Unleavened Bread, and follow a path of key events in Holy Week as revealed in Scripture. Come learn more about Holy Week events as they took place in the setting of Jewish days and the Jewish week.
---
Strong Tower: A Study on the Names of God (Women only)
Jacqueline Shaw | Room 401 & Zoom

Join us for a powerful look at one of the many ways the Lord has revealed Himself to us: His names. When we study the various names of God set out in Scripture, we gain a deeper understanding of who God is, which results in hope, confidence, and a more vibrant walk with Him.
---
More Wednesday Groups

September 7 – November 16 (11 sessions, no modules)
College Wednesday Night Workshop
Chad Asvestas & Pete Mayo | Room 240

College students (18–25), join us for a time in God's Word as we address some of the contemporary issues facing this generation. We'll enjoy lively discussions, share challenges, ask questions, and offer fellowship and encouragement. This informal group is open to all. Invite your friends!
No registration required.
---
Viviendo el Evangelio en Tiempos Turbulentos — Spanish Bible Study
Bill Ogden | Room 227 & via Zoom

Enseñada en español, esta clase estudiará I y II Pedro y se centrará en "Vivir el Evangelio en tiempos turbulentos."
---
Wednesday Night Prayer — Ongoing
Paul Hundrieser | Room 228 & via Zoom

You're invited to join us each Wednesday evening for prayer. We pray for each other, Calvary Church, our community, our nation, and our world. We meet continually throughout the year.
---
Contacts: Pastor Rob Reece, 704.887.3696, rreece@calvarychurch.com
Debbie Bordwine, 704.341.5328, dbordwine@calvarychurch.com